Dragon Tales Story Slam - Registration Required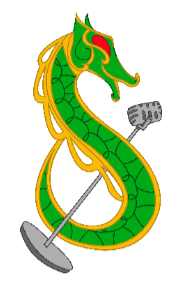 When:
This event has ended.
A story slam is a storytelling competition. Each of the featured six-minute stories is judged on how well it is told, how well it is constructed, how well the story explores, connects, and/or reveals some truth about the theme, and how well it honors the time limit.
Register to tell a story before noon on May 25, 2019, or come, enjoy, and support the storytellers. Registration: Registration Is Closed.
Compose your story.
Practice so you can remember it without notes. Keep it to six minutes.
Contestants are judged on sticking to the six-minute time frame, sticking to the theme, and having a story that has a conflict and a resolution.
TIPS – Dos and Don'ts
Stakes are essential in live storytelling. What do you stand to gain or lose? Why is what happens in the story important to you? If you can't answer this, then think of a different story. A story without stakes is an essay and is best experienced on the page, not the stage.
Start in the action.
Have a great first line that sets up the stakes and grabs attention.
Know your story well enough so you can have fun!
Make an outline, memorize your bullet points, and play with the details.
Don't have a meandering ending. Your last line should be clear in your head before you start.
Don't do standup comedy routines, please.
No rants.
No essays.
No fake accents.
Please use our stage to practice civility and respect. Please don't include racism, homophobia, misogyny, or any form of hate speech.
NOTE: Donations to this event will benefit the Women's Place and Resource Center of DeForest.
Prizes will be awarded.
Thanks to Greenbush Bakery, North and South Seafood & Steakhouse, Pick N Save, The Nail Bar, MPK Karate, and Ian's Pizza for prize donations.