Event Registration
If registration is required, recommended or appreciated for an event, the event will appear on this page. Unless an event states otherwise, please only register once for an event. Any questions give us a call at (608) 846-5482 or email us at
deforestlibrary@deforestlibrary.org
. Please note: you must be 13 or older to register online for our programs. Anyone under the age of 13 must have a parent or guardian register for them.
Adults
Flamenco/Classical/Jazz Guitar
October 25 - 6:00pm
| Community Room

Registration: Register! 6:00 pm - Dessert Buffet 7:00 pm - Concert You're invited to hear amazing performer and award-winning composer, Gladius, at this free concert. Since overcoming neuropathy in both of his wrists and elbows, Gladius has developed a reputation for relentlessly touring and impressing audiences. Inspired by Spanish guitar legends and famous...
Adults
With Louise
October 29 - 5:30pm
| Classroom - Lower Level

A jelly roll is a set of 2.5″ pre-cut fabric strips, featuring coordinating fabric. It's a great time saver and is great for beginning quilters. With the fabric already cut and coordinated, all that's left to do is sew together the strips into a fantastic quilt top.  Supply List Registration: Register! Please register online or at the library desk for this...
Adults
November 01 - 6:00pm
| Community Room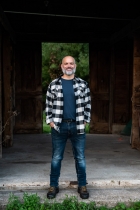 This is a Friends of the Library Fundraiser and it is $25 per ticket. A ticket will give you access to a VIP Hors d'oeuvres Reception with Michael Perry at 6:00 pm and priority seating for the Humorous Talk & Book Reading at 7:00 pm. There will be limited free spots available for the 7:00 pm Humorous Talk & Book Reading starting October 1. There are 2 ways to...
Teen & Adult
November 02 - 11:00am
| Classroom - Lower Level

Registration: 11:00 am Session 12:00 pm Session 1:00 pm Session 2:00 pm Session 3:00 pm Session Walk through your painting in full 3D as you make brush strokes in the air around you. Sign up for your one-hour slot at the circulation desk or www.deforestlibrary.org.
Adults
A Workshop with June Paul and James P. Roberts
November 07 - 9:00am
| Classroom - Lower Level

Registration: Register In this workshop we'll hear some classic poems of peace. We'll also talk briefly about styles of poems and a few easy ways to think about your area and style of writing. Then we'll take some time to start writing our own poems of peace. You might go home with your first poem, and then try writing more! If you have a disability and require...
Teen & Adult
November 16 - 1:00pm
| The Workshop
Join us to paint miniatures for use in tabletop gaming or just to display. Learn to bring these tiny 3D models to life with a bit of paint and a little know how. All supplies are provided, even the miniatures! If you want to bring your own model to paint please apply primer to it a few days before the program. October Registration: Register! November Registration...