Learn To Quilt - Registration Required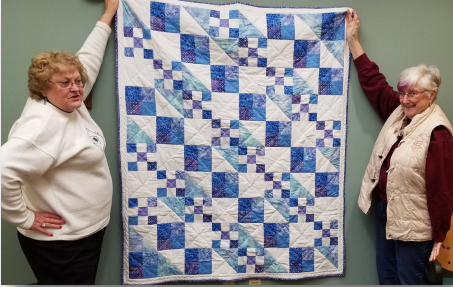 When:
This event has ended.
These avid quilters are excited to teach others their craft. In a 9-week session, you can make this beginner's quilt they have named "Love of Quilting". Beginning February 5, Karen and Evelyn will lead you in step-by-step lessons. Some supplies will be provided. A complete supply list will be given to participants at the time of registration. Details and registration information available on January 14.
All sessions are on Tuesdays: February 5 & 26 - March 5, 12, 19, & 26 April 9 & 16
Sessions begin at 5:30 p.m. downstairs in The Classroom.
You can bring your own sewing machine, if you'd like.
Open to those ages 12 & up. An adult must accompany those under 16 years old.
A waiver must be signed.
Registration: Register
Supply list:
1.5 yards Fabric A (background)
0.75 yards fabric B
0.5 yards fabric C
0.5 yards fabric D
0.5 yards fabric E
0.5 yards fabric F
0.5 yards fabric G (Center of 9 patch and binding)
White cotton thread (50 weight)
Safety pins 1.5 inch
Masking Tape