Teen/Adult Board Gaming: Storytelling & Dinos - Registration for Unlock! Game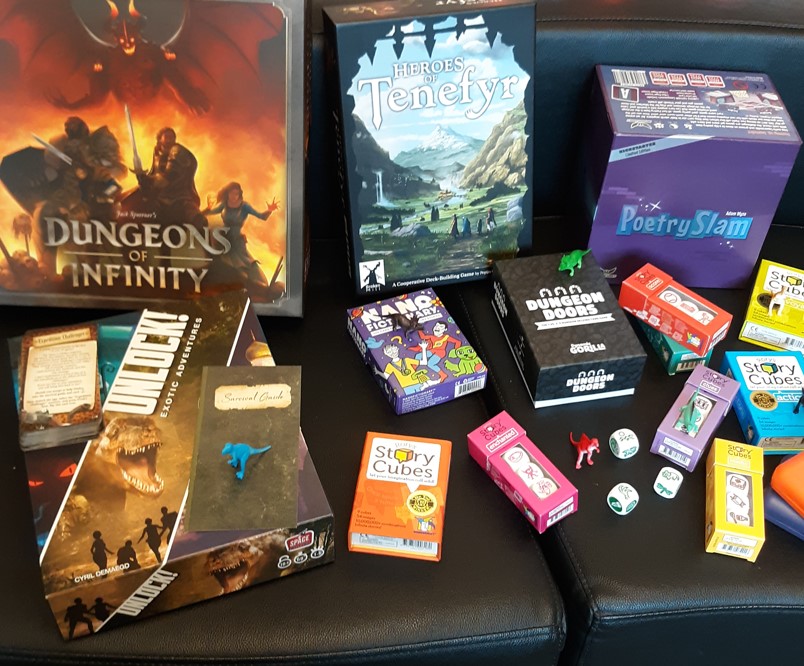 When:
This event has ended.
November is NaNoWriMo or National Novel Writing Month. To celebrate we will be playing games that have a strong story element.
Some games that will be featured at this event include:
Rory's Story Cubes
Roll the dice and create a story. You can even create a story for Dinovember!
 
Nanofictionary
Draw cards and try to create the best story.
 
Poetry Slam
Create short poems to see if others can guess your word.
 
Dungeons of Infinity
A cooperative dungeon crawl game. Choose a mission and explore a dungeon. 
 
Heroes of Tenefyr
A cooperative deck building dungeon crawl game with press-your-luck mechanics.
 
Dungeon Doors
A one vs. the rest dungeon crawl card game where the more you get into character the more fun the game will be!
 
Unlock! - Expedition: Challenger - Registration Required: Register to play this game!

Up to 6 people can register to play this game
It takes 1-2 hours to play
Difficulty is 3 of 3
We are recommending it for teens in High School and Adults
Description from the box "Explore a valley full of dinosaurs and save the members of Professor Challenger's latest expedition!"
Feel free to bring a game to teach and play!
Please note some of the games are rated for teens and adults 14 and older. We follow current CDC recommendations and public health guidelines.