Presented by Historical Impersonator Jessica Michna | 4th Tuesday Forum
Image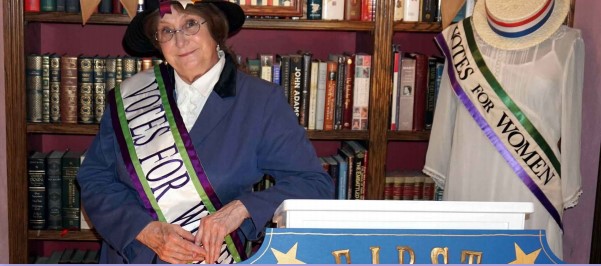 Where
Zoom & Library Community Room
Register to attend in-person: Register!
Register to attend on Zoom: Register!
Jessica Michna will be in-person at the DeForest Area Public Library to present this program. We will also be sharing Jessica's program live on Zoom.
Cristabel and Emmeline Pankhurst, Susan B. Anthony, Emma Davisson, Elisabeth Cady Stanton; some names you may recognize, others you may not.
In this program, Jessica Michna appears as …HERSELF! You will learn of these and other women (and men) who championed the cause of women's suffrage in this country and overseas in the late 19th and early 20th century. You will learn of the protests, jailings, victories, and defeats culminating with the signature of President Woodrow Wilson that would forever give women the right to vote.
Co-hosted via Zoom by DeForest Area Community & Senior Center, DeForest Area Historical Society, and DeForest Area Public Library
This library outreach program is open to the community. If you have a disability and require accommodation in order to fully participate, please contact library staff.